Beds
Queen
Room size
870 sq ft / 132 sq m
Occupancy
1 adults (4 children)
Spacious motel room, with river view, privacy, daily room servicing and dining setting. Ideal for professionals, travellers seeking extra space & up-market budget accommodation; great accommodation in walking distance of Queanbeyan CBD.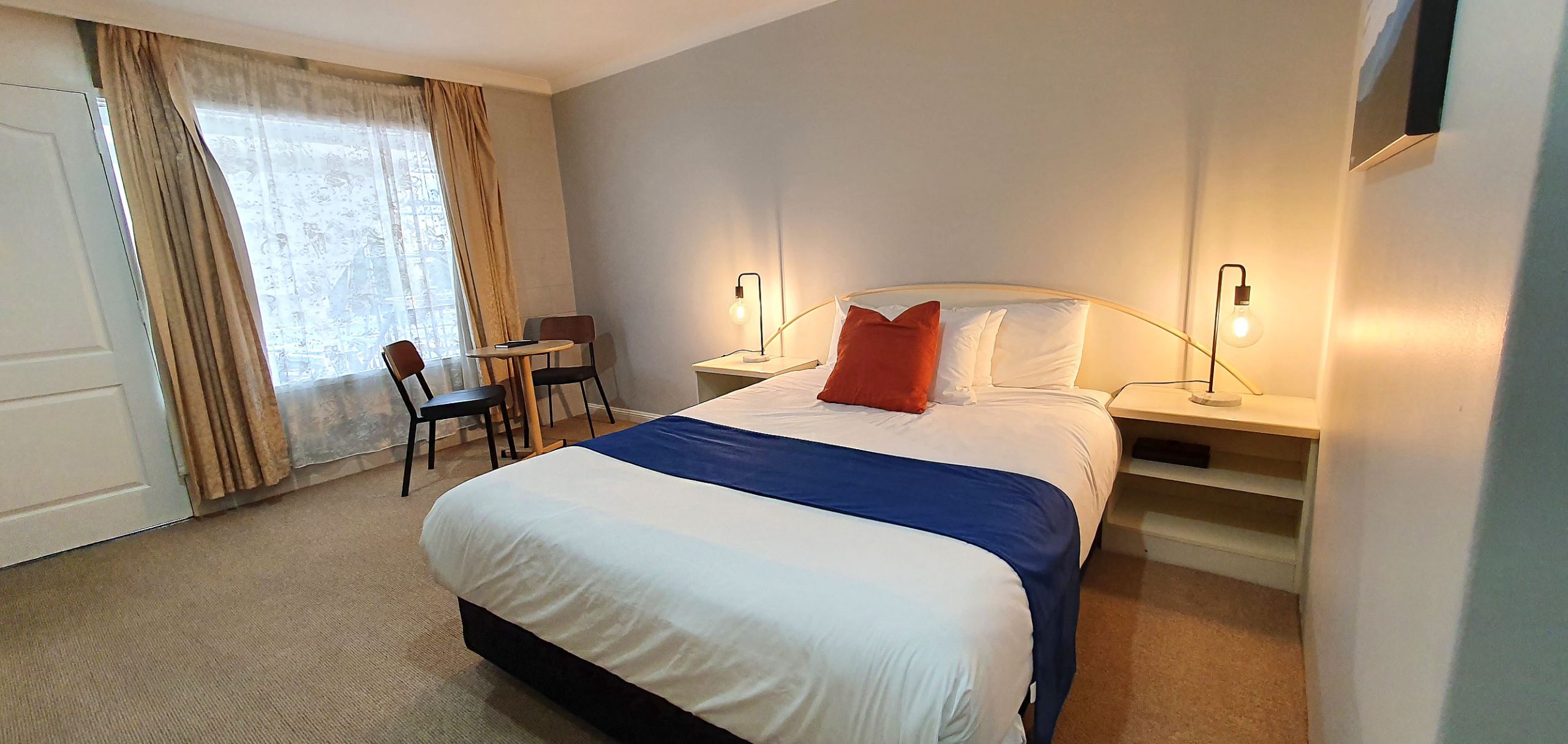 Offering Value Beyond the Accommodation in Canberra
Catering for individuals, couples, groups (large and small), our Queanbeyan accommodation is exactly what you need when you are looking to visit Canberra and the surrounding region. We continually strive to enhance your Queanbeyan & Canberra accommodation, and make your short or long stay with us as enjoyable as possible!
Our mission is to go above and beyond for our guests by providing great-value motel accommodation in Queanbeyan, quality services and proximity to restaurants, to ensure their time in Capital Country is convenient and well-catered. Naturally, to help our guests get more value for their budget, we provide a range of services, included with all bookings, free of charge: air-conditioning (capable of heating & cooling), free WIFI, free parking, towels & linen, in-room workspaces, modern facilities in the centre of Queanbeyan!
When booking directly through our website, you instantly save up to 10% on your hotel accommodation, just by using our Book Now feature!
Meaning that booking direct not only saves time and money, it also makes managing your booking that much easier!
Our reservation team are always more than happy to liaise with you and coordinate your booking to suit your requirements.
Sleeps 1-2
Enjoy a spacious motel room experience, fitted with Queen bedding in our peaceful riverfront loacation. Fitted with workspaces, seating/dining setting, tea & coffee amenities, modern bathroom facilities, reverse cycle air-conditioning, Free WIFI and parking included.
Ideal for professionals, travellers seeking extra space & up-market budget accommodation; great for couples accommodation near Canberra.
Air conditioned
Queen Bedding
Microwave
Mini-fridge
Dining Setting
Desk
Wifi
Parking included
24hr check-in
Heating
Cameron Foote
October 26, 2023
Recent renovations, new paint and furniture are very comfy and clean.
Graham Kerr
October 23, 2023
WOW! As first time guests at this establishment, we were most impressed. Housekeeping, presentation and inclusions were superb. Big capital city hotels could learn valuable lessons from this motel. Bed was very comfy, night was quiet and location is ideal to wander along the river bank. Plenty of beverage supplies in the unit; and a lovely new clean kettle. We judge a room for cleanliness by the smell of the room. Highly scented means cleaning is not en par, hence fragrance to cover offensive odour. This room was not masked by fragrance and smelt and looked clean. We certainly do recommend this establishment to all guests.
Debbie Deece
October 18, 2023
Room was exactly as advertised. Basic but Very clean and tidy. Advantages room was pet friendly. Loved the clean fresh fragrance in the room. There were no staff onsite but staff answered phone to assist with queries. I'd happily stay there again is very close to shops and restaurants and is a fair price .
Graham Hope
October 13, 2023
Have stayed at motel many times. This week stayed at motel and as usual found it very clean and tidy. Rooms were well serviced with coffee, tea and sugar provided. Room also has toaster and jug. Was greeted by a cheery Amy as I picked up my key. She was very helpful explaining wi-fi and other facilities the motel has. The motel is very close to town and club across river. Definitely will stay again.
Heather Scroope
October 11, 2023
Great room size, would appreciate if the air conditioning control could be lowered on the wall as it is too high, was not able to reach, especially as it over the bench area, had to use an implement to press the controls. Appreciated the housekeeping person offering to change our towels and provide more milk for our 2nd night. Housekeeping lady very polite. Unfortunately the shower leaks and the bathroom floor gets quite wet, however is an excellent size shower. Love having crockery, cutlery and wine glasses. Great location close to shops and eating places. Also quiet compared to the motels on the main road. Will definitely stay again
Mo Wazirzada (Mo)
October 3, 2023
Cannot fault anything at this quaint motel at the Queanbeyan riverbank. Clean, comfortable rooms with amenities and facilities kept in good condition, showing care and investment into the property by the owners. Stayed during Oct long weekend and was very reasonably priced. Plenty of power sockets in easy to reach locations. Competition, take note.
Amanda Handel
October 2, 2023
We had an apartment/room which was really spacious and clean. The location being so close to the river offered us a quick walk into the CBD area over the river, and a lovely peaceful walk up the river. Definitely will stay there again.
Regular plan
| Mon | Tue | Wed | Thu | Fri | Sat | Sun |
| --- | --- | --- | --- | --- | --- | --- |
| $0.0 | $0.0 | $0.0 | $0.0 | $0.0 | $0.0 | $0.0 |