Beds
Queen
Room size
870 sq ft / 132 sq m
Occupancy
4 adults (4 children)
Accessible accommodation designed for function & proximity to Queanbeyan services. Riverfront views, spacious motel room with parking included. Ideal for guests with mobility requirements and ground floor accommodation near Queanbeyan Hospital, restaurants & shops.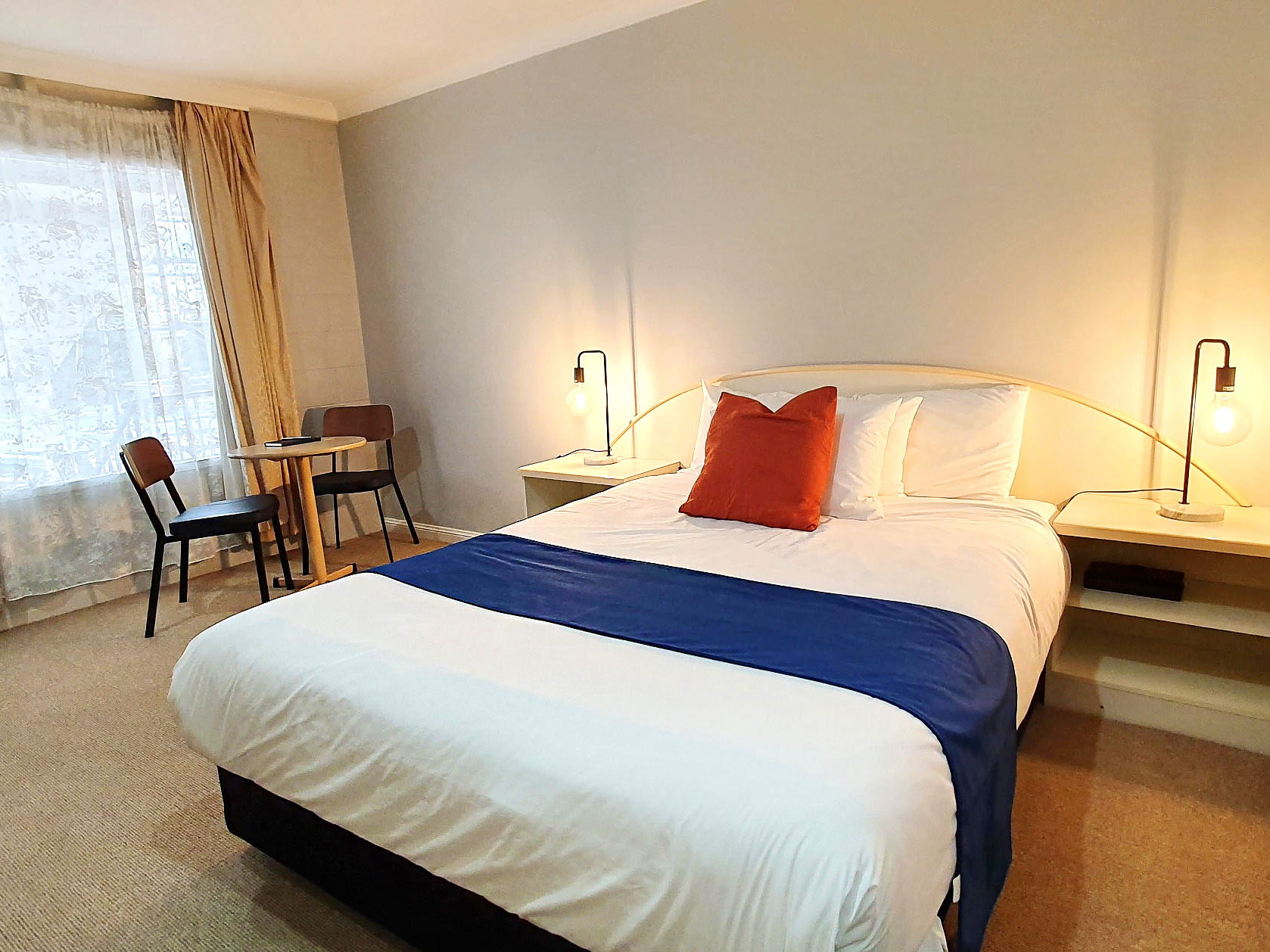 Regular plan
| Mon | Tue | Wed | Thu | Fri | Sat | Sun |
| --- | --- | --- | --- | --- | --- | --- |
| $0.0 | $0.0 | $0.0 | $0.0 | $0.0 | $0.0 | $0.0 |
Offering Value Beyond the Accommodation in Canberra
Catering for individuals, couples, groups (large and small), our Queanbeyan accommodation is exactly what you need when you are looking to visit Canberra and the surrounding region. We continually strive to enhance your Queanbeyan & Canberra accommodation, and make your short or long stay with us as enjoyable as possible!
Our mission is to go above and beyond for our guests by providing great-value motel accommodation in Queanbeyan, quality services and proximity to restaurants, to ensure their time in Capital Country is convenient and well-catered. Naturally, to help our guests get more value for their budget, we provide a range of services, included with all bookings, free of charge: air-conditioning (capable of heating & cooling), free WIFI, free parking, towels & linen, in-room workspaces, modern facilities in the centre of Queanbeyan!
When booking directly through our website, you instantly save up to 10% on your hotel accommodation, just by using our Book Now feature!
Meaning that booking direct not only saves time and money, it also makes managing your booking that much easier!
Our reservation team are always more than happy to liaise with you and coordinate your booking to suit your requirements.
Sleeps 1-2
Experience riverfront accommodation in the heart of Queanbeyan, with accessible functionality in mind. Enjoy daily room service, laundry facilities, tea & coffee amenities, mini fridge, Free WIFI, TV, and newly renovated bathrooms; parking included.
Available by request.
Ideal for guests with accessibility & mobility requirements, accommodation near Queanbeyan Hospital and in proximity to shops & restaurants.
Riverfront location
Accessiblity Accommodation
Tea & Coffee Amenities

Modern Bathroom

Air Conditioned
Wifi
Parking included
24hr check-in
Heating
River Motel Queanbeyan
115 Google reviews
Clean and comfy. Very pleasant
Chris Stevenson
2022-07-11
Good location and well maintained rooms. I will be back.
Best motel of this type I've stayed in!!!! Room was extremely clean, and well equiped ……cutlery, crockery, bathroom extras and more. Manager was extremely helpful and friendly. HIGHLY RECOMMEND!!
Lynden Gatenby
2022-06-15
This motel is being refurbished so new bathrooms and finishes though construction materials about.Had a flood in my shower as screen floor seals not working and the fall in the new floor sloped wrongly.Office is unattended and automated so you MUST have a security code from your booking app. I had to ring an emergency number to get my key AND there were others in the same boat. NOT GOOD Madge !!. Management this is a major bug not good to have your guests in the cold no room key after dark. Motel stay otherwise good close to queanbeyan Leagues great reasonable meals motel off main drag so quiet motel carpark very good. Rooms comfortable good AC and heating new large TV. Would stay again
Clean and tidy, well priced. Loved it😃😃
Wayne Van Sambeek
2022-06-03
Great location with parking for trailer. Clean, comfortable room.
Highly recommend the Leagues Motel, I cannot thank Annette enough for making our stay such an amazing experience. Your attention to detail was absolutely wonderful and we felt spoilt. We couldn't have asked for a better finish to our holiday. The room was well stocked with essentials and very clean. We will definitely be staying here again
Karen McKenzie
2022-05-12
We stayed at League's during the school holidays. Our room was clean and light. We had our son with us and there was plenty of room for the 3 if us. It was a little noisy, but that was other people staying walking past. There was no road noise and we all slept well. When we arrived back to our room in the second day, the room had been cleaned and the beds tidied up. We were surprised. We'd stay here again for sure. Thanks for looking after us so well.